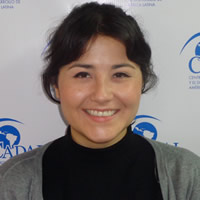 Diana Arévalo
Director of Cultural Projects
Professional in Government and International Relations of the Externado University of Colombia. Master's Degree in International Studies at CEMA University. In 2015 she held a Postgraduate Course in Cultural Management and Communication at FLACSO in Buenos Aires. In 2016 she held a Diploma in Human Rights, Pedagogy of Memory and Cultural Policies at the Henry Dunant Foundation in Santiago de Chile. Between March and August of 2016, she practiced as an international intern at the Center for Openness and Development in Latin America (CADAL) and in July 2017 she joined as CADAL Project Assistant.
Diana Arévalo's publications
| |
Fecha: 19/3/2018
Categoría: Articles
Publicado en: Puente Democrático
In the specific case of Cuba, the report questions the fact that artistic freedom on the island is subject to the aims of the Revolution and everything that is not framed within this premise is censored and repressed.