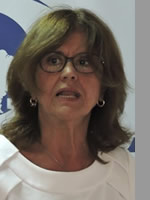 Liliana De Riz
Academic Advisor of CADAL
Liliana De Riz has a degree in Sociology (University of Buenos Aires) with honors and a Doctor in Sociology from the School of Higher Studies in Social Sciences of the University of Paris with Special Mention (1975). She is consulting professor in the Faculty of Social Sciences of the University of Buenos Aires and Senior Researcher of the CONICET. She was coordinator and main author of the Human Development Reports of Argentina in 2002 and 2005. She is expert in Latin American politics, has studies the electoral systems, parties, public policy and human development. Among her books: Society and politics in Chile: from Portales to Pinochet (1979), Radicals and Peronists: the National Congress between 1983 and 1989 (1994) and Politics suspended from 1966 - 1976 (2000). She received the award for Excellence in the impact of public policies granted by the UNDP (2004) and the Konex Prize in Political Science (1996).
Liliana De Riz's publications
|
Fecha: 26/9/2018
Categoría: Reseñas
Publicado en: Análisis Latino
(Editorial Universidad Nacional de Córdoba, 2017) - Los Principios combatió la Reforma Universitaria, demonizó al radicalismo sabattinista, celebró el derrocamiento de Perón y su regreso en 1973.