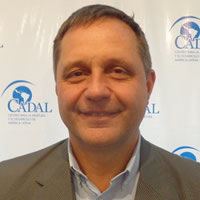 Tristán Rodríguez Loredo
Treasurer of the Center for the Opening and the Development of Latin America (CADAL).
BA in Economics and Master in Sociology (Universidad Católica Argentina), Master degree in Management of Communications Businesses and PhD in Public Communications (Universidad de Navarra, Spain). Professor at Instituto de Comunicación Social (UCA) and Facultad de Comunicación (Universidad Austral). Former Executive Director of Asociación Cristiana Dirigentes de Empresa (ACDE). As a journalist he served at El Cronista Comercial, Clarín, Editorial Atlántida, he was director of the magazines Negocios and Apertura and executive editor of the magazine Noticias.
Tristán Rodríguez Loredo's publications
| |
Fecha: 18/4/2011
Categoría: Documentos
Publicado en: CADAL
En su exposición en la Memoria, el Ministerio de Economía ocupó a lo largo de 36 páginas (149-185) el estado económico de la Nación. El método, si fuera ese el interés, lleva a presentar objetivos universales y a mostrar logros también genéricos. Pero como elemento de registro, como control de eficiencia de las políticas adoptadas, resulta un fiasco. La elaboración anual de esta Memoria se realiza en cumplimiento del artículo 104 de la Constitución de la Nación Argentina.