CADAL takes part in youth activity of support to Democracy in Cuba organized in Mexico
Young leaders from important political parties of Chile, Argentina, Peru, Dominican Rep. and Mexico founded the International Committee of Youth for Democracy in Cuba at Havanna, Cuba.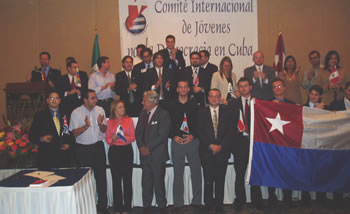 Mexico City, August 27th, 2005/ Cuban Democratic Directorate - Youth leaders from leading political parties from Chile, Argentina, Peru, Dominican Republic, and Mexico have founded the International Committee of Youth for Democracy in Cuba in Havana, Cuba. The action, taken in solidarity with Cuba's repressed dissidents, consisted of a workshop, statements videotaped in different public places throughout Havana, and the signing of a document titled the Havana Memorandum, which condemns Castro's dictatorial regime.
The Memorandum expresses the youth's commitment to liberty in Cuba and denounces the fact that Cubans are "imprisoned in their own country," and was signed in Cuba by Fernando Gril from Argentina, Jose Luis Garza and Ricardo Lavin from Mexico, Jorge Canas from Chile, Hipolito Ramirez from Dominican Republic, and Jorge Villena from Peru.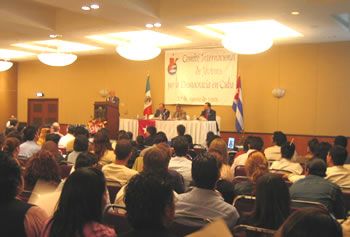 With shouts of "Cuba will be free! Youth Awaken!" hundreds of Mexicans and international youth leaders showed their support as the Memorandum was formally presented and ratified in Mexico City on August 27, 2005. Youth leaders representing more than 15 countries including Brazil, Venezuela, Uruguay, Costa Rica, El Salvador, Canada, Czech Republic, and Slovakia, also signed on to the Havana Memorandum at the well-attended event, which received ample news coverage in Mexico.
Making contact with the island was the most intense moment of the Mexico City event. Nestor Rodriguez Lobaina, leader of the Cuban Youth for Democracy Movement who was recently released after serving a 5-year prison sentence for his non violent civic activities, engaged the participants via telephone from Cuba. Lobaina inspired the participants with his words and, in turn, was encouraged by the energetic chants of hope and solidarity transmitted through the phone lines. "We will continue to struggle for academic freedom and university autonomy," said Lobaina.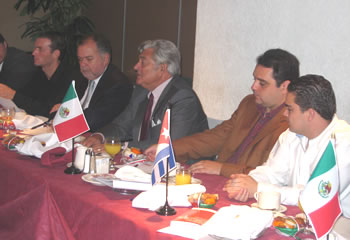 "Hearing the voice of a person that has suffered through the rigors of prison is exemplary and has to urge us, who have all the liberties and many luxuries in life, to do a little bit more because we do very little for this cause," said former Uruguayan president Luis Alberto Lacalle, who was the key note speaker at the event.
Juan Carlos Mondragón Quintana, National Youth Secretary for the Mexican National Action Party stated, "Latin America lived for many years under authoritarian regimes and dictatorships which we have overcome. Our only repressed brother remaining is the Cuban population, which is still suppressed under a dictatorship that is authoritarian and does not allow free thought and does not allow choice… What we want is for the entire continent to live under conditions of liberty and democracy."
The International Committee for Democracy in Cuba, established last year in September by former heads of state and government around the world, including Vaclav Havel from the Czech Republic, inspired the formation of the International Youth Committee, which hopes to gather more youth throughout the world in solidarity with their brothers and sisters in Cuba who are denied basic human rights and liberties.
* Havana Memorandum is attached *
---
HAVANA MEMORANDUM
FIRST STAEMENT OF THE INTERNATIONAL COMMITTEE OF YOUTH FOR DEMOCRACY IN CUBA. CITY OF HAVANA, REPUBLIC OF CUBA ON THE 28TH DAY OF THE MONTH OF JULY IN THE YEAR 2005.
In response to the request from the International Committee for Democracy in Cuba through the Prague Memorandum signed on September 2004, and convened by the General Secretary of said Committee, young adults from different parts of the world have united in Havana, Cuba with the end of constituting the International Committee of Youth for Democracy in Cuba.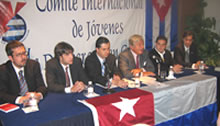 We, the youth, have decided that the statement with which we found this committee be signed in the island to reaffirm our commitment with the presence of our Cuban brothers and to execute it in front of the world, without fear and with firm conviction that all communities in the world are called to the common search and solidarity for the most prized good in any society, liberty.
We, the youth, who are part of a population from which sovereignty was once robbed, who live in countries that suffered from dictatorships not long ago, demonstrate in this statement that we have not forgotten the help from so many men and women whom, with the help from the international community, gave us a free and democratic country, in which we enjoy the conditions to elect the path of each one of our countries today.
We, along with the youth we represent, have been in contact with young Cubans who fight incessantly to reinstate liberty to their country. We believe it is an indignity that to this day all those who peacefully dissent from the regime are persecuted, that the quality f the Cuban person is denigrated by robbing their natural and intrinsic right to express their ideas. It is intolerable that the Cuban population remain imprisoned in their own country.
We are convinced that something that may never be robbed is their right to think differently, although they may not always be able to express it. This is why we are committed to being the voice and the pen for those who cannot express themselves. We commit ourselves with solidarity to promote this noble cause of promoting their struggle for human rights by all ethical and non-violent means until the Republic of Cuba achaivces liberty and the Cuban people determine their own destiny.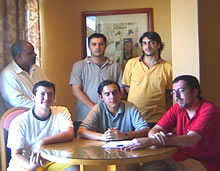 SIGNED IN HAVANA BY: Fernando Gril (Argentina), Jorge Canas (Chile), José Luis Garza (México), Ricardo Lavín (México), Jorge Villena(Perú) and Hipólito Ramírez (Dominican Republic)