With the support of the Konrad Adenauer Foundation, CADAL organized a new meeting of Montevideo Latin American Forum in Teluria Vinoteca. On this occasion, the Vice President of CADAL, Carlos Fara, and journalist Nelson Fernández, analyzed «The presidential elections in Argentina and their impact in Uruguay».
Carlos Fara analyzed the result of the primaries in Argentina, the electoral perspectives for October 27, the impact on the economy and what can be expected from an eventual government of Alberto Fernández. For his part, Nelson Fernández compared the mirrors and political waves in Río de la Plata, and analyzed the process of the presidential elections in Uruguay, whose first round will coincide with that of Argentina, in a vote in which the result will be looking in the neighboring country.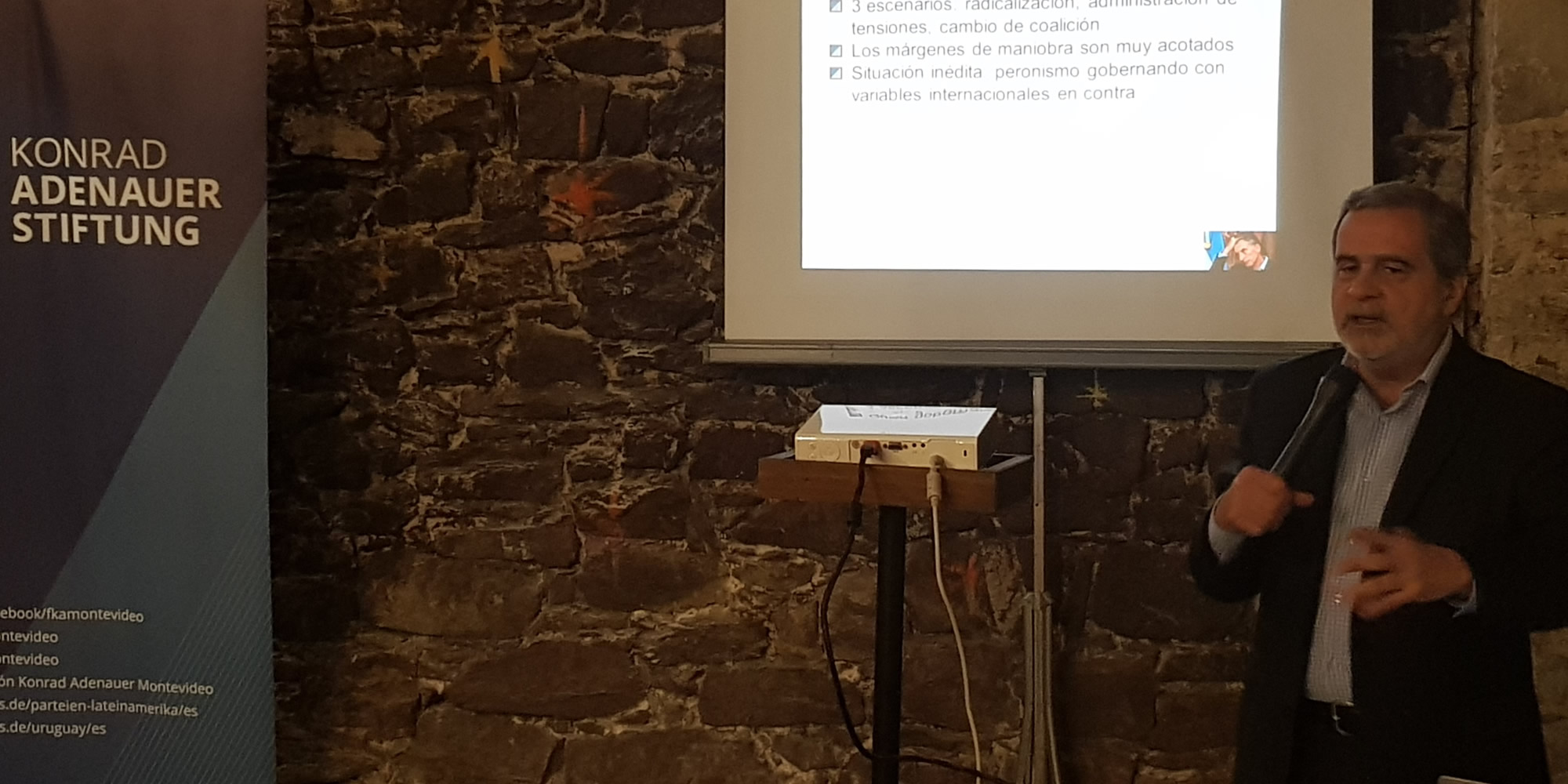 Carlos Fara has dedicated to political consulting for 33 years. Specialist in Public Opinion, Electoral Campaigns and Government Communication. He has received several awards. He has also participated in almost 140 electoral campaigns in Argentina and Latin America, with an effectiveness of 79%, and in more than 500 research, advice and training projects. Former president of the Latin American Association of Political Consultants (ALaCoP), and first president of the Argentine Association of Political Consultants (AsACoP). He was a member of the board of the International Association of Political Consultants (IAPC). Author of the first book in Spanish dedicated entirely to the profession, "How to be a political consultant?" that received the ALaCoP Award for Best Book 2018. And he is Vice President of the Center for the Opening and Development of Latin America (CADAL).
Nelson Fernández Salvidio has been a journalist since 1981, specializing in political and economic information. He worked in various media. He is currently Correspondent of the newspaper "La Nación" of Buenos Aires; Journalistic director of "NSTV-Nuevo Siglo"; conducts "Claves Politícas" by NSTV and "Seventh Day" by Teledoce. He is a columnist for "El Observador" and Radio Sarandí, where he leads with Pablo Fernández "El Cuarto Secreto". He is an Analyst at "Oxford Analytica" (UK) and LEAD / NEWS. He was a professor of journalism at the Catholic University, of Economics at the ORT University and currently of Political Communication at the University of Montevideo. He has published several books. He is a graduate of the Institute of Economics of Montevideo, with subsequent courses at Columbia University (NY-USA), University of Miami and Fundación Nuevo Periodismo Iberoamericano (Colombia).